Description
সকল অনুষ্ঠানের সব কিছু এক ঠিকানায় Humayra.com.bd । কারণ, এখানে আপনি পাবেন কম খরচে প্রিমিয়াম কোয়ালিটির বিয়ের স্টেজ ডেকোরেশন করার সুবিধা।
Mehendi Night Stage

মেহেদী স্টেজ সাজানোর জন্য অর্ডার করার নিয়ম
মেহেদী স্টেজ সাজানোর ডিজাইন পছন্দ করুন: স্টেজ পছন্দ করে "Shop Now" বাটনে ক্লিক করে বুক করুন।

ফোন করে নিশ্চিত করা: কাস্টমার কেয়ার থেকে আপনাকে ফোন করে "Confirm" করবে

স্টেজ তৈরি করে আসা: আমাদের ওয়েডিং প্লানার কাঙ্ক্ষিত দিনে মেহেদী স্টেজ সাজানো কাজ করে আসবে।
স্টেজ বুক করার জন্য আমাকে কত টাকা অগ্রিম পেমেন্ট করতে হবে?
– আপনার বুকিং কনফার্ম করার জন্য ১০% অগ্রিম পেমেন্ট করতে হবে।
মেহেদী স্টেজ বুক করার পর ডিজাইন পরিবর্তন করার সুযোগ আছে?
– কিছু কিছু ক্ষেত্রে পরিবর্তন করা যাবে।
আমাদের পছন্দ মত মেহেদী স্টেজ সাজানোর আইডিয়া দিতে পারবো?
– অবশ্যই পারবেন। আপনি আমাদেরকে আপনার পছন্দমত স্টেজের ছবি দিতে পারেন অথবা স্টেজেরে আইডিয়া দিতে পারেন। আমরা আপনাদেরকে ঐরকম স্টেজ ডিজাইন করে দিবো।
Mehendi Night, is a traditional per-wedding celebration in many cultures, particularly prevalent in South Asia and the Middle East. This enchanting and colorful event is an integral part of the overall wedding festivities and holds great cultural significance.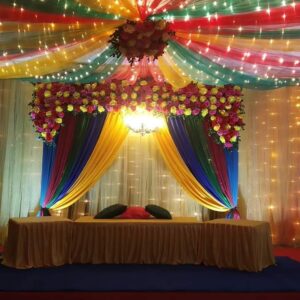 One of the central and visually striking elements of a Mehendi Night is the "Mehendi Night stage," where much of the celebration takes place.
The Mehendi Night stage is typically a beautifully adorned area or platform within a larger venue, such as a home courtyard, banquet hall, or outdoor garden. The decor is vibrant and rich in cultural symbolism, often featuring an array of colorful drapes, cushions, and low seating arrangements, such as cushions or floor sofas. Intricate patterns, motifs, and traditional artwork adorn the stage to create an inviting and visually stunning atmosphere.
The seating on the Mehendi Night stage is typically arranged to accommodate the bride and her close female relatives and friends. Low tables or cushions are often placed in a semi-circle or U-shape, creating an intimate and communal setting where attendees can engage in various traditional activities.
The central activity of the Mehendi Night is the application of henna (mehendi) designs on the bride's hands and feet. Skilled mehendi artists are often present on the stage to adorn the bride with intricate and elaborate henna patterns. This process can take several hours, during which guests may also have the opportunity to have henna applied to their own hands.
Before choosing a

Mehendi Night

stage, there are a few things you should keep in mind:
Your

Mehendi Night

theme and style. The stage should be consistent with the overall theme and style of your wedding. For example, if you're having a rustic

Mehendi Night

, you might want to choose a stage made of wood and natural materials. If you're having a formal wedding, you might want to choose a more elegant stage with draping and lighting.
The size of your

Mehendi Night

party. Make sure the stage is big enough to comfortably accommodate your

wedding

party. You don't want them to be cramped or uncomfortable.
The size of your venue. The stage should be the right size for your venue. You don't want it to be too big or too small.
Your budget. stages can range in price from a few hundred dollars to several thousand dollars. Set a budget before you start shopping so you don't overspend.
Live music or recorded traditional songs and dance performances are a common feature of the Mehendi Night stage. Dholki (drum) beats and lively melodies add to the celebratory atmosphere, encouraging guests to dance and enjoy the evening.
The Mehendi Night is not just about Mehendi application but also includes various rituals and blessings. Elders and relatives may offer their best wishes to the bride, provide advice for married life, and conduct traditional ceremonies that symbolize the bride's transition into married life.
Food sections delectable traditional cuisine and refreshments are often served during the Mehendi Night. This includes a variety of snacks, sweets, and beverages, allowing guests to indulge in culinary delights while celebrating the upcoming union.
The Night itself holds symbolic significance, representing love, joy, and the bond between the couple. The darker the Mehendi stain, the stronger the love between the bride and groom is believed to be.
Overall, the Mehendi Night stage is a focal point of joy, celebration, and cultural richness, where friends and family come together to celebrate the bride's upcoming wedding. It's a moment filled with tradition, artistry, and heartfelt well-wishes, making it a cherished and memorable part of the wedding festivities.